As part of the district's comprehensive personal safety and wellness education plan, a representative from the K-State Extension Office visited Grandview second grade classrooms on January 18 to teach students about fruits and vegetables as part of a healthy lifestyle.
This nutrition presentation will be shared will all second grade students in USD 490 during January and early February.

Bonnie Brewer, Family Consumer Services Agent for the K-State Extension Office, presented "Color Power with Fruits and Vegetables." This lesson teaches about the importance of consuming a variety of fruits and vegetables because they each provide different health benefits.
Brewer asked students to hold up their hand. Most hands have five fingers, which represents the five servings of fruits and vegetables they should eat every day. The five fingers also represent the five color groups that students should select those fruits and vegetables from to ensure they are consuming a healthy balance of nutrients. Brewer then asked them to cup their hand. She explained that what would fit in their cupped hand is a single serving to give them an idea of portion size.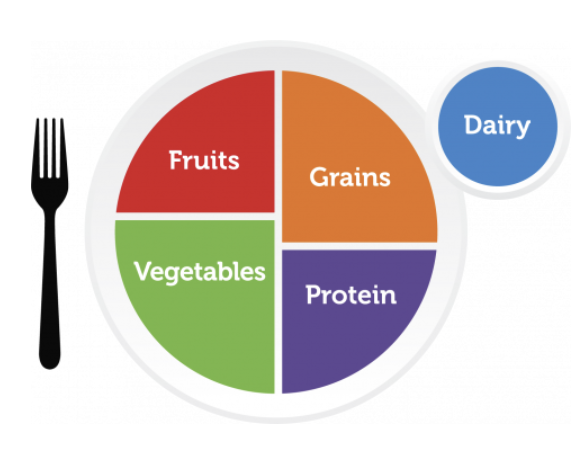 There are five main food groups that are considered important for a healthy, balanced diet: fruit, vegetables, grains, protein, and dairy. Using the My Plate graphic from myplate.gov, Brewer showed them that fruits and vegetables should make up about half of their plate at mealtimes. Phytochemicals are the nutrients that create different colors in fruits and vegetables. Using the acronym for the colors of a rainbow (ROYGBIV), Brewer connected the colors to kinesthetic actions to help students remember which color groups were good for which aspects of a healthy body.
Red fruits and vegetables are good for heart health. She encouraged students to make a heart shape with their fingers and place it over their heart. Some examples in the red category were tomatoes, apples, strawberries, and raspberries.
Orange and yellow ones contain nutrients that are beneficial for the eyes. She had students make a circle with their index finger and thumb, then place the circle around their eyes. Examples in this category included corn, carrots, oranges, and peaches.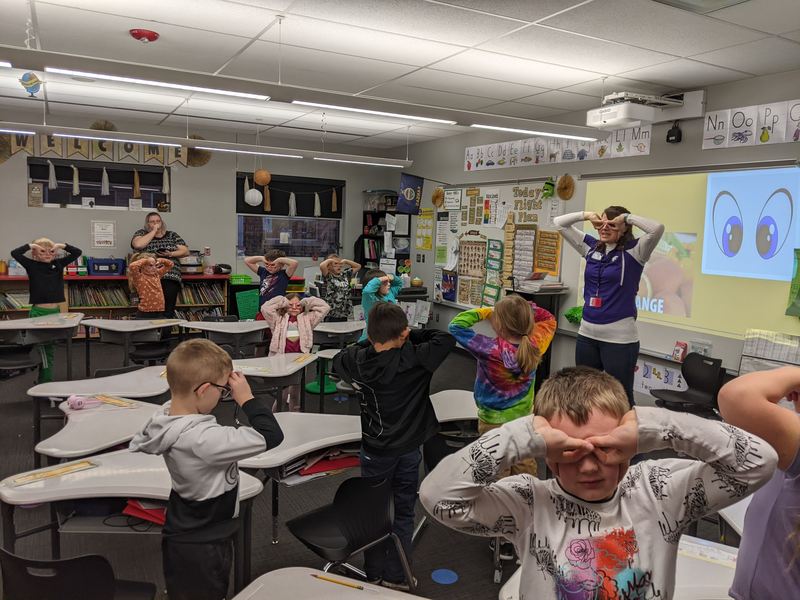 Green fruits and vegetables are good for muscles. She had students flex their biceps. A few examples included green grapes, kiwi, broccoli, spinach, and kale.
Blues and purples are good for the brain and memory health. Brewer asked students to make two fists and hold them together above their head. She explained that the size of those two fists is approximately the size of their brain. She had them flatten their hands above their head to make a helmet for their brain. Some examples of blue and purple fruits and vegetables are eggplant, blackberries, blueberries and plums.
The final color category is related to the clouds often found with rainbows: white. Brewer told students that fruits and vegetables in this color are like the superheroes of fruits and vegetables. They support the immune system and help fight disease. While some of the examples were expected like onions, garlic, cauliflower and potatoes, other were a bit of a surprise. Pears and bananas are part of the white color group because their nutrients are not in the skin like other fruits. They are contained in the flesh, which is white.
After reviewing the colors, Brewer read "Handa's Surprise" and asked students to be thinking about which continent they thought the story took place in. She explained that climate affects what is able to grow and which animals are able to thrive.
"It's wonderful to learn about other parts of the world because we are all interconnected," Brewer said. "A lot of foods we eat are grown in other parts of the world."
Brewer reminded students that we live in The Bread Basket, but told them we would not have the wheat our region is named after if it weren't for a man who brought the wheat seeds over from Ukraine in the 1800s when he immigrated to Newton, Kansas. There are museums in Newton and Goessel where you can see the luggage he used to bring the seeds to Kansas.

Other topics covered each year by the personal safety and wellness plan include: Fire Prevention taught by the El Dorado Fire Department; Drug Abuse Resistance Education (DARE) taught in partnership with the Butler County Sheriff's Department; Gun Safety taught by school resource officers; Nutrition and Wellness taught in partnership with the K-State Research and Extension Office, Susan B. Allen Memorial Hospital, and the YMCA; the human body system taught by physical education teachers; personal safety and awareness taught by school counselors, school resource officers and classroom teachers; dental care taught by local dentists; poison prevention taught by local pharmacists; water safety taught by the YMCA; and puberty and personal hygiene taught by the school counselors.