USD 490 Class of 1981 graduate and former Skelly student Jim Clements is touring Blackmore, Grandview and Skelly schools to talk to fourth and fifth grade students about his career as an artist and demonstrate some artistic techniques.
Although Clements began painting more than 40 years ago, he has only been a full-time artist for around 15 years. He ran a newspaper business for several years after graduating before leaning into his passion in art as a career. As a child he began by painting dinosaur figurines and fish in aquariums. His first painting was a tree that he created during a summer art class when he was ten years old.
"It was terrible!" Clements said. "I didn't paint again until my junior year of high school."
Clements attributes his renewed interest in painting to his high school art teacher, Frank Wise, whose skills in portrait painting Clements greatly admired. Now, Clements prefers oil paints and charcoal sketching and has artwork in private collections across the United States, an exhibit locally in the Coutts Museum of Art, and in a museum in Dodge City. As a way to give back to his community, Clements paints portraits of dogs and other animals and donates 100 percent of the proceeds to Heartstrings Animal Rescue.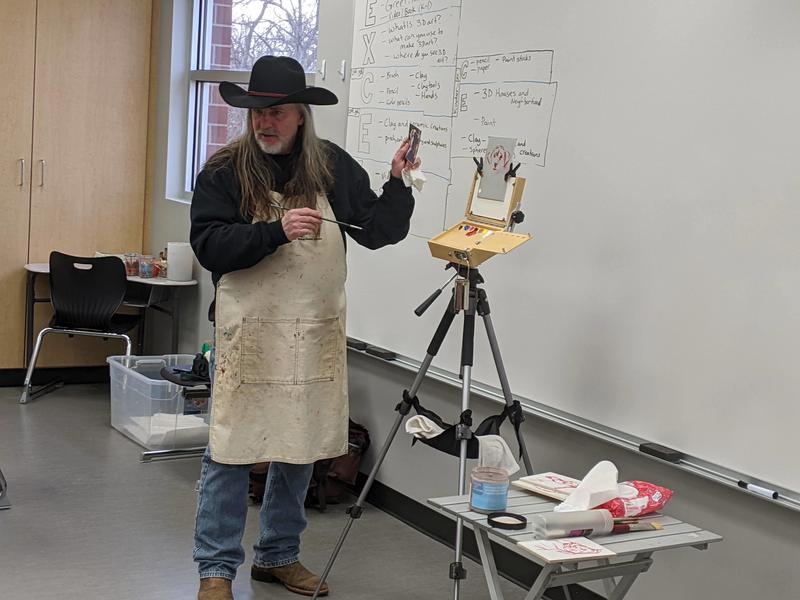 While demonstrating how to sketch an animal portrait with a flat brush and oil paint, Clements shared facts about art as a career, important safety tips, and offered bits of advice to students. He said that in 2019 there was around $64 billion spent on art worldwide. After the pandemic in 2020, it dropped to about $50 billion. Forty-two percent of those sales occurred in the United States. Chuckling, Clements told students when he was their age he always heard the expression starving artist and didn't know until he was an adult that there was another kind – one that allowed a person to make a living creating art.
"It's really important to draw from life, because life is always moving and as an artist you have to learn to capture what's important," Clements said.
Passing around some small sketches so students could see examples of value studies, Clements explained that different paints contain different chemicals. When the paint is wet, it is important to know its contents because some contain lead or other ingredients that might require you to wear gloves to keep from absorbing harmful substances.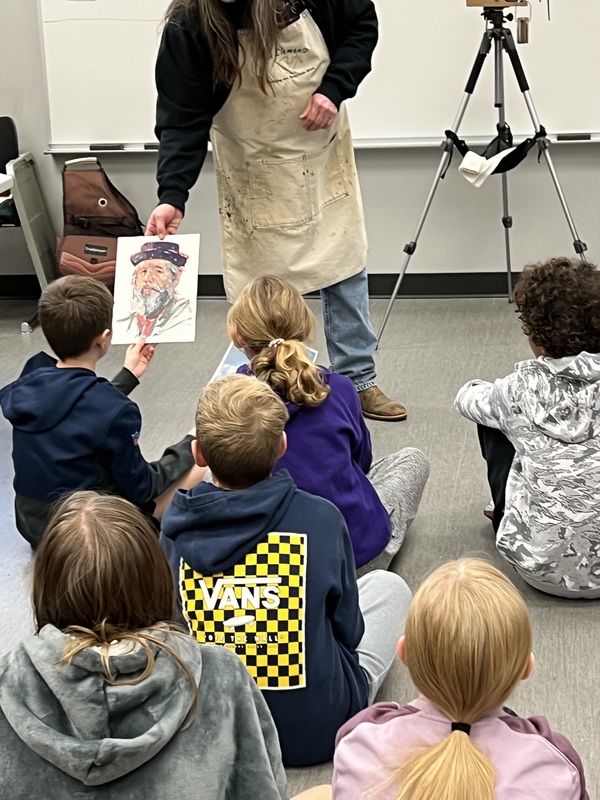 As he talked, he moved around so students could see what he was painting. He explained that flat brushes were better for outlining and how bristle types can affect texture of the paint, which can affect the overall look of a painting. He advised students to look for geometric shapes in whatever image they are trying to paint so help with determining proportions and how warm versus cool light can change the appearance of colors.
When asked how long it takes him to create a piece, Clements responded that for smaller pieces, it usually takes about three days. For larger pieces, he treats them like a jigsaw puzzle, working on one small section at a time and taking breaks to work on other projects. The process is pretty much the same even though the amount of time it takes to complete it is largely dependent upon the subject matter and size.
First, he sketches the outline, then blocks it in. It then has to dry and oil paints take much longer to dry than acrylic. After he finishes the detailing, he has to let it dry again. Then, he likes to take a picture of the piece to see if there are any spots he needs to touch up or correct. After those tweaks, he lets it dry, then repeats the photograph process as needed until he is happy with the outcome.
"Clouds and water are tricky," Clements said. "I just have to tinker with them until they look right."

Not every brush stroke is perfect and Clements made sure students understood that mistakes were common, they were okay, and they did not always mean the piece of art was ruined. He discussed ways to "erase" some small mistakes. Others could be turned into something else, or covered up. He shared that not every painting turns out, and that's okay.
"Something I learned a long time ago is that as an artist, you never stop learning," Clements said.
Elementary Art Teacher Ira Bane worked with Jim Clements to schedule the art demonstration tour. The first stop was Grandview on January 11. He visited Blackmore on January 23, and will visit Skelly in the upcoming weeks.
To learn more about Jim Clements' art, visit his website jimclementsart.com.

The next project for USD 490 elementary art students in clay and sculptures. Students will sketch their idea, then use the clay to bring those creations to life.