2023-2024 Online Enrollment is OPEN!
If you have any questions about online enrollment over the summer, please contact the District Office at 316-322-4800. After August 1, please contact your child's school office with any enrollment questions.
If you have questions about middle or high school schedules, please contact your school counselor after August 9.
For information about Prekindergarten, Role Model or Early Childhood options, please click here.
To download a Kindergarten Pre-Enrollment Form, please click here.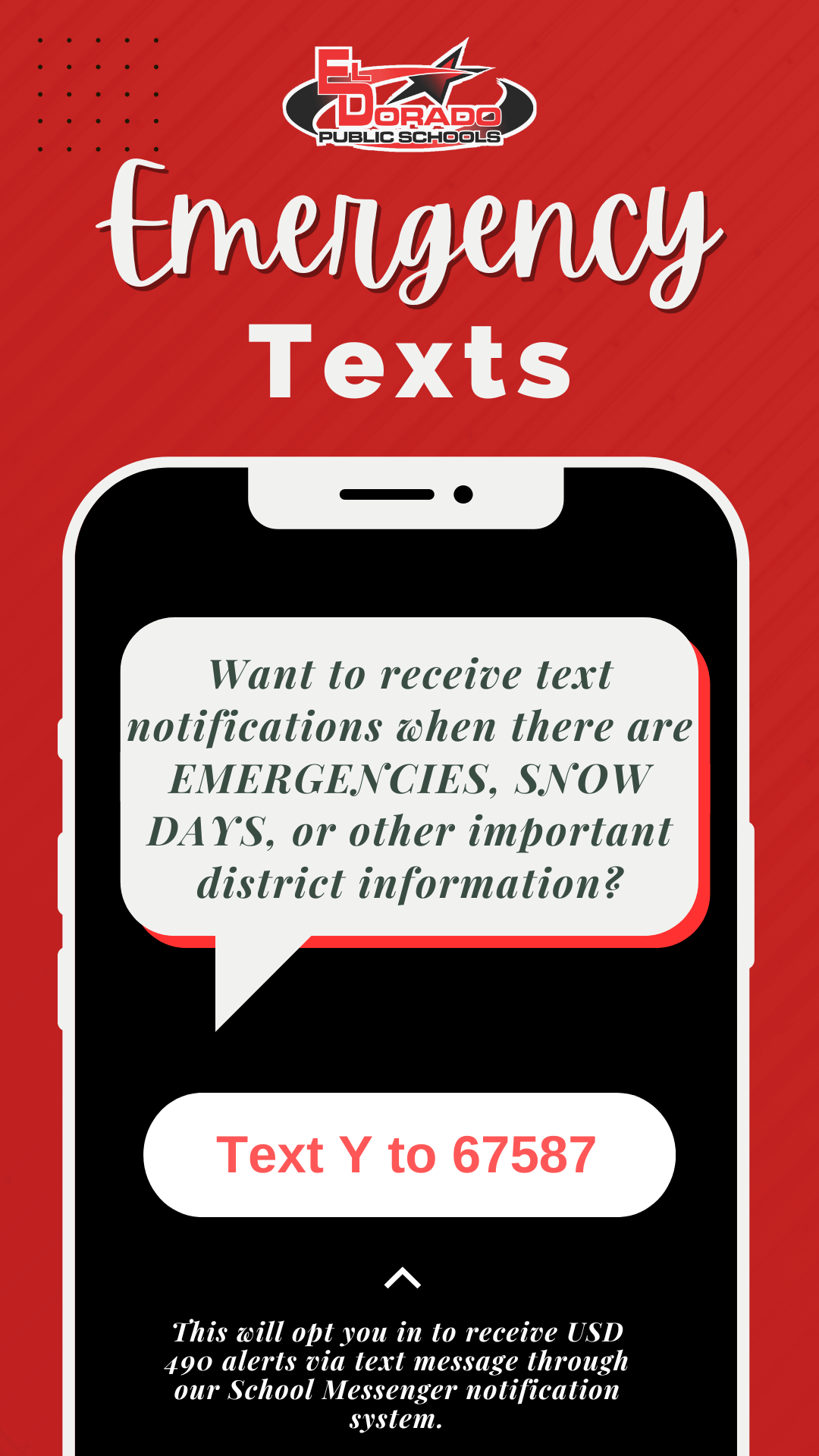 Please make sure the school has your correct contact information on file. Our emergency notification system relies on that information to contact you.
Connect with us on district and school social media!
Click here to download our Parent-School Connection brochure for more information about district and school social media and available mobile apps.
Be sure to download our Mobile App!
El Dorado USD 490

Our schools are latex-controlled environments. Pencils and erasers should be LATEX-FREE, please. Thank you!
Attention Parents of Elementary Students!
Mark all items with your child's name.

Crayola crayons, markers and colored pencils recommended.

These supplies may need to be replenished during the school year.
Supply lists are also available on TeacherLists.com. The links below will take you directly to each school's list. Simply click on the student's grade level, and it will add all of the supply list items to your cart for whichever participating vendor you select. You can then add or remove items from your cart, as needed.
Early Childhood
Backpack
Crayons (8 or 16 count regular)
2 Glue Sticks
Markers (8 count fat, round)
Reusable Water Bottle
2 Large Boxes Tissue
Plastic Pencil Box
4 Individual Play-Doh Containers
Kindergarten
Backpack
Child's Scissors (blunt ends)
2 Boxes Crayons (24 count)
8 Glue Sticks
Markers (8 count fat, round)
12 - No.2 Yellow Pencils (Latex free)
Pink Eraser (no gum erasers, Latex free)
Reusable Water Bottle
2 Large Boxes Tissue
Plastic Pencil Box

First Grade
Backpack
Child's Scissors (blunt ends)
Crayons (24 count)
2 Dry Erase Markers
4 Glue Sticks
Markers (8 count fat, round)
12 - No.2 Yellow Pencils (latex free)
Pink Eraser (no gum erasers, latex free)
Reusable Water Bottle
2 Large Boxes Tissue
Plastic Pencil Box
2 Spiral Notebooks (wide-lined)
Second Grade
Backpack
Crayons (24 count)
Colored Pencils
1 Composition Notebook
2 Dry Erase Markers
2 Glue Sticks
Markers (8 count fat, round)
12 - No.2 Yellow Pencils (latex free)
Pink Eraser (no gum erasers, latex free)
Reusable Water Bottle
Scissors (pointed ends)
Plastic Pencil Box
2 Large Boxes Tissue
Third Grade
Backpack
Colored Pencils (12 count)
Crayons (24 count)
2 Dry Erase Markers
2 Glue Sticks
2 Yellow Highlighters
Markers (8 count fat, round)
Spiral Notebook (wide-lined)
12 No. 2 Yellow Pencils (latex free, no mechanical pencils)
2 Pink Erasers (no gum erasers, latex free)
Reusable Water Bottle
Scissors (pointed ends)
Plastic Pencil Box
2 Large Boxes Tissue
Fourth Grade
Backpack
3-Ring Binder with Clear View Pocket Cover (1 1/2-inch)
Colored Pencils (12 count)
Crayons (24 count or more)
4 Dry Erase Markers
2 Yellow Highlighters
2 Glue Sticks
Markers (8 count fat, round)
2 Spiral Notebooks (wide-lined)
12 No. 2 Yellow Pencils (latex free, no mechanical pencils)
Pink Eraser (latex free, no gum erasers)
2 2-Pocket Folders (no prongs)
Reusable Water Bottle
Scissors (pointed ends)
Plastic Pencil Box
2 Large Boxes Tissue
Fifth Grade
Backpack
Colored Pencils (12 count)
Crayons (24 count or more)
2 Glue Sticks
Markers (8 count fat, round)
2 Dry Erase Markers
1 pack Notebook Paper (wide-lined)
2 Spiral Notebooks (wide-lined)
2-Pocket Folder (with prongs)
12 - No.2 Yellow Pencils (latex free, no mechanical pencils)
Pink Eraser (latex free, no gum erasers)
Reusable Water Bottle
Scissors (pointed ends)
Plastic Pencil Box
2 Large Boxes Tissue
12-inch Ruler (1/8-inch and centimeter)
Sixth Grade
Closable Binder with Zipper (optional)
Tennis Shoes for PE (to be kept at school)
Colored Pencils (12 count)
2 Highlighters
2 Glue Sticks
1 pack Notebook Paper (wide-lined)
1 pack Notebook Paper (college-rule)
One-subject Spiral Notebook
Blue Pen
12 No. 2 Yellow Pencils (latex free)
Pencil Pouch
Pink Eraser (latex free)
12-inch Ruler (1/8-inch and centimeter)
Scissors
3 Boxes of Tissue
Earbuds
Seventh Grade
Closable Binder with Zipper (optional)
Tennis Shoes for PE (to be kept at school)
Colored Pencils
Composition Notebook
Dry Erase Markers
2 Highlighters
Glue Sticks
1 pack Notebook Paper (college-ruled)
Large Spiral Notebook (college-ruled)
12 No. 2 Yellow Pencils (latex free)
Pencil Pouch
Pink Eraser (latex free)
Black Sharpie (fine tip)
3 Large Boxes Tissue
Earbuds
Eighth Grade
Closable Binder with Zipper (optional)
Tennis Shoes for PE (to be kept at school)
2 3-Ring Binders (1-inch)
Colored Pencils (12 count)
3 Composition Notebooks
6 Colored Dividers with Tabs
2 Highlighters
Glue Sticks
1 pack Notebook Paper (college-ruled)
12 No. 2 Yellow Pencils (latex free)
Pencil Pouch
2 Black or Blue Pens
Pink Eraser (latex free)
2 Black Sharpies (fine tip)
Scissors
3 Large Boxes Tissue
Earbuds
El Dorado High School
Tennis Shoes for PE (to be kept at school)
3-Ring Binder (1.5 or 2-inches)
Blue or Black Pens
Index Cards (100 pack, lined)
2 packs Notebook Paper (college-ruled)
12 No. 2 Yellow Pencils
Reusable Water Bottle
2 Large Boxes Tissue
2 Highlighters

(These are suggested items for all classes. Individual teachers will give specific items for their classes as needed during the year.)

*List revised June 2023